John Spencer
Before getting started, I just want to point out that teachers have been amazing over the last few weeks. I've watched entire districts mobilize to provide online and long-distance instruction while also providing a safe way for kids to get breakfast and lunch. That's pretty amazing. It's no wonder so many people will mention the name of a teacher when asked about who had the greatest impact on their life.
During this time of social isolation (at least that's what I'm experiencing here in Oregon) my goal has been to create free content that teachers and parents will find useful. Last week, I created a guide and a toolkit. Starting Monday, I'll be releasing a free chapter each day in an audiobook for kids. I'll be sharing the details tomorrow. A warning ahead of time -- it's pure escape. Yes, there's a theme and character development but it's mostly fun and goofy and, honestly, what my kids need right now.
This is also why I also created this free writing prompt.

As a dad, I've noticed that my kids are feeling a little anxious and stir crazy being stuck in social isolation. I believe social isolation is the right thing to do but that doesn't make it any easier for my kids. For this reason, I decided to make a writing prompt created specifically for kids who are stuck at home. You can download it here. You can embed the YouTube video or add the video in something like Google Classroom. The only thing I ask is that if you find it useful, please consider clicking the "like" button on the video below and maybe sharing it out on social media? Don't forget to subscribe to my channel as well.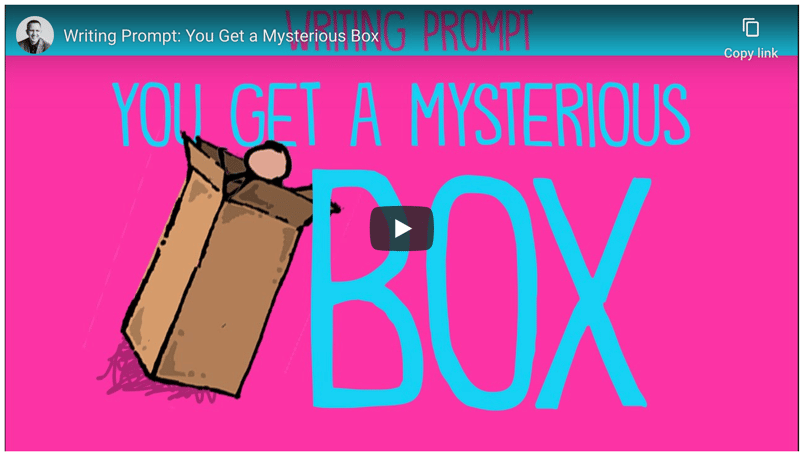 Transcript
For your safety and the safety of your community, you are in a shelter in place order. This means you're stuck at home. No hanging out with friends. No playing sports with your neighbors. You can video chat, text, and talk, but you're already feeling lonely. But this morning, when you wake up, you find a giant cardboard box in your room. Although it seems ordinary, this box can transport you into any book you've ever read.
Simply state the book and page number and press the button and you'll end up inside that world. Where do you go? Perhaps a fantasy novel? Maybe you want to warn Harry to take better care of Dobby? Or maybe a mystery novel? Perhaps you'll go to a historical novel from back in the day or maybe you'll visit a far-off galaxy and figure out why Storm Troopers have such bad aim. Or you'll enter the world of superheroes and see firsthand how they save the day. Or maybe you can visit a dystopian future and help a protagonist change that society. Or maybe a realistic fiction novel where you can help a character navigate an interpersonal conflict. However, there is a catch. The box can only take you to five locations.
Please list the five locations and explain why you are choosing them. Next, tell the story of the first location you visit. How will you react to the setting? How will you interact with the characters? How long will you stay there? What will you do while you're there? Finally, explain how your actions change the plot, setting, and theme of the book. An adventure awaits. Good luck!
Let's Connect!
Follow my Facebook page for my latest articles and some of my favorite curated resources from other. Also, you might be interested in my YouTube Channel, where I create sketch videos for teachers. You can also follow me on Twitter and Instagram. Keep on doing the great work you're doing! Have a great day and go out and make something awesome!