Online Learning - edutopia
Online Learning
Teaching Strategies of Award-Winning Online Instructors
A recent study gleaned five insights on virtual instruction by examining the techniques shared in common by top-rated online instructors.
April 17, 2020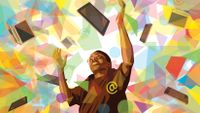 Daniel Hertzberg / theiSpot
The spring of 2020 has brought a sudden shift for many classrooms into an online setting. Teachers are trying to adjust their instruction rapidly, and many are doing remote teaching for the first time. Experience matters, and it can be frustrating trying to help our students in this new way with everything else happening right now.
Fortunately, a recent study in the open-access journal Online Learning shares the stories of a group of eight award-winning online instructors with a combined 109 years of experience teaching online courses. The study authors interviewed university-level instructors about their approaches to online instruction. These approaches apply to K–12 students as well, because the instructors emphasize things like relevant course materials, a flexible approach to student work, and the importance of reflection in learning—all things we need in elementary and secondary education, too.
The interviews provided the authors with five insights into how the instructors approached their award-winning class designs.
1. Authentic and Relevant Course Material
There is a wealth of online content to link to and reference, but including authentic primary materials is a great way to anchor learning. Authentic sources, real examples, and cases taken from our history or the natural world provide the rich context and nuance that hypothetical designs or made-up examples often lack.
Asking students to analyze and interpret primary materials and timely content can boost their critical thinking and engagement. The teachers interviewed in the study gave some examples:
"Snippets of recordings from a radio show aired weekly that was related to course topics, and which students were required to discuss in an online forum." A history teacher, for example, could share this list of 10 major historical broadcasts.
"Videos from courtrooms and recorded interviews with prosecutors about specific aspects of legal cases." Students can listen to the live arguments in many U.S. Supreme Court cases, including the Bush v. Gore suit related to the 2000 election, on Oyez.
"Recorded podcasts with experts on the course topics to model their thinking and provide authentic material to the students." A podcast that interviews science experts, like Ologies with Alie Ward, is one option.
2. A Variety of Multimedia Resources
Speaking of external media, it's also important to provide material in a variety of formats. Providing video, audio, reading, and interactive content can make a course more engaging. It also improves the accessibility of a course: Students who may struggle with a particular medium—students with a reading barrier such as dyslexia or a video barrier such as hearing or attention problems—are at a major disadvantage if that medium is the only way to engage with material.
Some good examples of mixed-media approaches might be:
Provide a radio broadcast, newspaper clips, and an interactive map for students in a history lesson. Students can then identify themes present throughout all the materials.
Ask students to write a summary of a theme in a piece of literature based on an excerpt from the book, a TV interview the author gave on the book, and a series of web or print comics that reference the book.
3. Student Creation of Content—Individually and Collaboratively
Students can show their engagement with the rich instructional materials described above by creating similarly rich products. The things students create should include opportunities to work together and to express themselves individually. The instructors in the study describe several examples:
"Students created digital stories using technologies such as Photo Story or PowerPoint after choosing a topic of their choice that related to their subject-matter expertise and that connected course content to their lives."
"Students were required to read critical articles or text and create short (2–3 minute) presentations as podcasts." Here's information on helping students create a podcast.
"Students had an online debate about benefits and drawbacks" of a course topic. Debates can be synchronous (using Zoom or other video conferencing software) or asynchronous (using VoiceThread or even just a discussion board).
4. Student Reflection on Learning
Reflection and metacognition are essential to learning in any setting, and in an online setting teachers must be intentional about helping students reflect. The study authors emphasize that the reflection activities of their teachers went beyond assessing understanding—such activities interwove quizzes, discussion posts, podcasts, and papers with prompts to help students reflect on their learning.
5. Explanation of Purpose
Students should also look forward in order to understand how their coming work will build upon what they've already done. Teachers may not want to share all the details of their lesson plans, but every student should have a sense of how they are trying to grow. The interlinking of our course material can be lost in the online format, so the connections between activities should be stated (and restated) so students can see how they all fit together.
The Takeaway
"You can't just take your material you've provided in class and put it online," as one teacher in the study said. We must adapt our instruction for the online format, choosing our content carefully and then building rich activities that keep students engaged while they're working on their own.
---
Online Learning
To give his students a sense of stability, an elementary teacher has shifted his morning meetings to asynchronous home learning.
April 17, 2020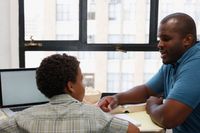 In an ideal world, you could get all 30 second graders logged into Zoom at the same time, with everyone seeing and hearing each other and no students fidgeting with their keyboard, crunching pretzels, using the webcam to show their tonsils, or making fart noises. But who's in that world? Not me. I'm still trying to get permission forms back to even try a Google Meet with my first and second graders.
Home learning is so different from being present with our students. Every day in the classroom, we notice little details as our students come in—we keep a finger on the pulse of our learning community. But from miles away it isn't easy to know how students are truly doing.
Read Full Story
---
Online Learning
Guiding questions to help you discern which science resources are the best to share with parents—or use when you get back in the classroom.
April 16, 2020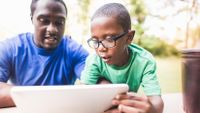 There is growing awareness that early science experiences are fundamental to children's science learning, interests, and identities. Reflecting that fact, the Covid-19 school closings have resulted in a tidal wave of digital science resources aimed at preschool, kindergarten, and first-grade teachers.
As educators and researchers who support early science, my colleagues Claire Christensen and Regan Vidiksis and I wanted to help, but we were hesitant to add to the extensive list of online science videos, games, and activities teachers already had to sort through. Instead, we generated a set of questions teachers can use to evaluate the resources they find—on science websites, in apps, or on Youtube—and decide which ones to share with their young students and their families.
Read Full Story
---
Social and Emotional Learning
Suddenly, you're not in the same physical space as your students. We asked teachers to share strategies for maintaining relationships—both peer-to-peer and student-teacher—when everything's gone remote.
March 25, 2020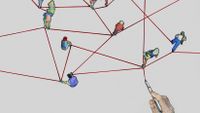 On any given day in schools across America, many students exchange warm greetings with a smiling teacher, then perhaps move on to a morning check-in, followed by a quick mindfulness exercise to start the day grounded and mentally focused. Surrounded by peers they've known for months, or perhaps even years—and a teacher they see daily—kids feel connected.
In spite of some critics who downplay the importance of social and emotional learning and the value of belonging—the number of such skeptics is falling, to be sure—the research is clear and has been for some time: When kids spend their daytime hours in safe, supportive schools where adults work every day to build strong relationships with every student, they are simply better, more engaged learners.
Read Full Story
---
Special Education
In special education, teachers say that schedules, sensory supports, and close collaboration with families can help smooth the transition to remote learning during coronavirus.
March 27, 2020
Around the nation, K–12 schools are frantically trying to adapt to abrupt closures during the coronavirus. But while all teachers are struggling with the new normal, special education teachers in particular are facing unparalleled challenges transitioning both their teaching—and their students and families—to home-based instruction tailored to each student's needs.
"When you say 'special education,' you are talking about an umbrella of ages, interests, abilities, and disabilities, within which are individual needs identified by their Individualized Education Program," explains Margaret Shafer, a third-grade teacher in Morton, Illinois, echoing questions raised by our readers, who wonder how they can provide sufficient support for each of their students who each have very different requirements to learn.
Read Full Story
---
Family Engagement
On March 18, 2020, Simone Kern tweeted that simply "recreating schools at home" passes up a golden opportunity to engage kids in authentic, self-directed learning.
March 24, 2020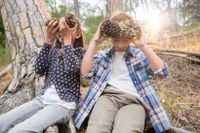 With students at home because of the coronavirus threat, social media feeds filled up with color-coded learning schedules from well-meaning parents. But they've struggled to implement those schedules—partly because the tightly structured, time-in-seat approach of traditional schools often has more to do with crowd control than optimizing learning.
The sudden shift to work-from-home might provide a good kind of disruption, opening up a golden opportunity for students to engage in authentic, deep learning that is more self-directed, more playful, more aligned with young students' development—and much easier for parents to manage than stacks of worksheets.
Read Full Story
---
Online Learning
An elementary teacher who has worked for an edtech start-up argues that it's important now—with teachers and students working separately—to promote reflection and social connection as tools for learning.
April 1, 2020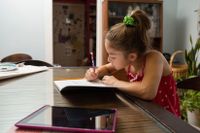 Technology integration is a double-edged sword: While it can make us more powerful and help us overcome what appear to be insurmountable obstacles, it can also create more barriers if used improperly.
I've learned this the hard way, through trial and error. For three years, I worked for an education technology start-up company and network of micro-schools dedicated to personalized learning. While our goal was to help every child reach their full potential through individualized, digitally driven content, I learned over time that many digital tools have dehumanizing effects: They chip away at human connection, limit opportunities for heterogeneous groupings and cross-ability collaboration, and have kids turning toward screens instead of their teachers and fellow learners.
Read Full Story
---
Communication Skills
Tips from the PBS NewsHour Student Reporting Labs help students develop skills that are useful across the curriculum and in project-based learning—both now and when they are back in schools.
April 20, 2020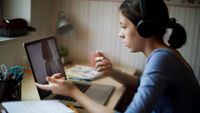 There's nothing like the smile on a student's face after they complete an interview with an expert. When done right—with preparation and practice—such a conversation gives teenagers a sense of accomplishment, relevance, and agency in the world.
Interviewing requires students to listen, focus, think on their feet, and react appropriately to what the other person says. When students plan for an interview, they need to assess what they don't know—a metacognitive skill—and learn a lot about the interview subject because otherwise the interview will be awkward. This is real life, with real consequences if they're unprepared and a real payoff if they do well—the heart of project-based learning.
Read Full Story
---
School Leadership
Working remotely is changing teaching, and it affects how school teams work together as well. Addressing these questions will help teams ensure that they're doing their best work.
April 17, 2020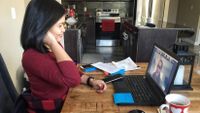 Shelter-in-place, self-quarantine, and stay-at-home orders have created a new reality for educators, students, and families.
While the context of our work has changed, our mission to serve our communities remains. But working in this new reality is a significant challenge, particularly given the uncertainty, ambiguity, and isolation experienced by so many members of our communities. So how do we respond to these challenges?
Read Full Story
---
Classroom Management
An easy, fair way to manage multiple students' needs when they're working independently or in groups.
April 17, 2020
Read Full Story
---
Literacy
Giving meaningful feedback on a peer's work doesn't come naturally to students. Try these tips to help students hone their editing skills.
April 17, 2020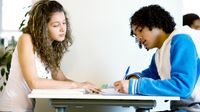 Too often, asking students to edit each other's writing results in superficial commentary. Many students are uncertain about how to provide meaningful feedback on a peer's work. 
One way to make peer review more effective is by scaffolding it, or breaking down the practice into several classes where students critique each other's work in a more focused, incremental manner. Scaffolding allows students to identify and address a single type of error in an allotted time period. While it is a valuable process for all students, it is especially useful for English-language learners and learning-support students, who benefit from breaking tasks and information into more manageable components. 
Read Full Story